Tips
Choosing the right boots for my feet ?
The choice of your boots depends on the use you wish to make of them.
Go to our different categories - gardening, hunting, maritime...to find all our models adapted to each situation!
Each product also corresponds to a use that will guide you in your purchase:

Occasional use :
Product recommended for recreational use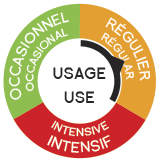 Regular use :
Natural rubber quality for regular use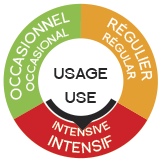 Intensive use :
Natural rubber quality recommended for intensive / professional use
How do i know my boot is the right size?
You need to feel comfortable in your boots, i.e. you need to be able to :
Move your toes comfortably,
Do not feel too tight in the calf area.
Lift your heel slightly when you walk, but be careful that it doesn't come off completely.
What is the calf circumference for?
The calf size is also important in the choice of your boots. Indeed, even if the rubber is flexible enough, it is better to choose a boot with enough space at the calf to be comfortable in your boots.
On each product sheet of our hunting and maritime boots you will find the calf circumference expressed in centimeters, so you can compare with your measurements and make the right choice.
Tips for measuring your calf circumference :
In sitting position, knee bent at 90°, feet flat, measure the widest part of your calf with a measuring tape.
If you are used to wearing your boots with big socks or pants inside, we advise you to take your measurements with your clothes.
Clogs, boots or ankle boots ?
Here again, you must choose your model according to the use you wish to make of it: boots, ankle boots or clogs will not allow you to do the same activities.
Prefer clogs or ankle boots for gardening or enjoying your garden in dry weather and choose boots that will protect you more optimally in rainy weather or for DIY activities and for heavy work in the garden (pruning, mowing ...).
We also offer a range of safety shoes for safe professional use!
---
Care
How do i take care of my rubber products?
We recommend to :
Wash your rubber products regularly in clear or soapy water if necessary,
Let the boot dry in a ventilated room and do not store in the sun
To restore their shine, protect and maintain them, you can also use a special rubber spray that you will find on our website by clicking here.
All our products are made from natural rubber, a white film may appear on your boots. If this is the case, don't panic! These are insoluble particles present in the material...it is certainly not very aesthetic but it is a guarantee of quality. To give back shine to your products, here again the rubber maintenance spray will be able to overcome these traces.
In addition, the material has a low resistance to heat and UV rays. To keep them for a long time, we therefore recommend not to store them near a heat source (radiator, stove...) and under direct light (veranda, sun...).
How do i take care of my eva clogs?
EVA does not require much maintenance. You can wash your clogs in clear, soapy water if necessary and let them dry in a ventilated room.
How do i take care of my leather shoes?
We recommend to :
Before the first use, waterproof your shoes with a suitable product,
With a brush (leather or nubuck), rub your shoes to remove dust and impurities,
Wash with a damp cloth if necessary,
Complete the cleaning with a special leather milk to nourish the material and a shoe polish to restore shine.